At Hollymount School the staff aim to give the children an enjoyment of learning through providing creative opportunities which nurture curiosity and engagement.
We encourage the children to take pride in their work and to be confident through motivation and celebrating achievements.
Through this the children achieve success, they develop ambition and persevere when things get tough and become independent learners.
Children are encouraged to have an understanding and respect for the wider community, showing an appreciation of other cultures and way of life. We value the environment we have built which is inclusive and promotes tolerance and acceptance of others.
Hollymount School children will encounter the principles of the British Values throughout everyday school life.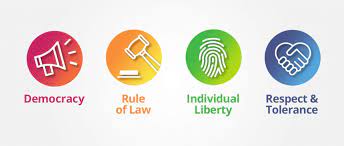 In addition to British Values, Hollymount School has Core Values which are woven through our curriculum and sit at the heart of our beliefs.
School Core Values
Proud to be me
Children at Hollymount School are proud of themselves and their achievements. Opportunities are always given to children to develop their confidence and self-belief, which enables them to take on new challenges and persevere with new learning.
"I like to challenge myself and I learn from making mistakes" (Year 4)
Enjoy learning
Children enjoy all aspects of learning and are able to generate and extend their ideas, exploring possibilities. Children show their passion for learning through engagement and articulation of their views and, where appropriate, sharing these views through a conjecturing atmosphere.
"I like to join in with the discussions in class as everyone listens to me." (Year 3)
Achieve success
All children strive to achieve their best at Hollymount School. They become successful learners through developing a high-level of ambition and recognising how this can be achieved. The children do this by continually seeking ways to improve and persevering in all areas of the curriculum.
"I always try my very best and my teacher lets me know how well I have done all the time." (Year 1)
Respect for the world
Children at Hollymount School are respectful learners; they value and celebrate diversity. The children respond appropriately to their peers and all adults – understanding the role and responsibilities of all stakeholders. All children understand what it takes to be a good citizen and will challenge disrespectful behaviour, where appropriate.
"I have learnt how to behave in and outside of school and who can support me and my friends." (Year 6)
Please read the following Pastoral Handbook: