E-Safety Week
In February we held our annual e-safety week.  Children across the school learnt about different elements of on line and digital safety.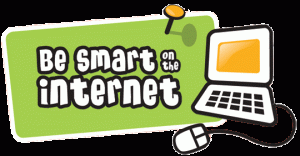 Reception, Years 1 and 2 will be learning about personal information – what it is, who they can share it with and who to talk to if they have any problems on-line.
Year 3 and 4 will studying malware – what it is, what it does, how to avoid it and the ethics of this issue.
Years 5 and 6 will be considering copyright and plagiarism – discussing the issues of copy and pasting others work and images.  They will also learn how to reference work.
Reception, Years 1 & 2 – Personal Information
The children watched a video about keeping safe on-line and designed posters to show which personal information they should keep private.
Reception made a class ebook about on-line safety:
The Year 1 children made videos to show how to protect their personal information from naughty 'aliens' who came to steal their data!
Some of the children in 1EM made their own internet safety video:
Years 3 & 4 – Malware
The children made short videos to show what Malware is and how to avoid it.  Here are two examples from 2LA:
Years 5 & 6 – Copyright
The children learnt how to search for images which had a 'license for use' and created powerpoint presentations to give 5 top tips for obeying copyright.
Tegan and Declan worked together to create their copyright presentation.  Download it here:
Here are some of the finished presentations from Year 6.  Please click on the links to download the presentations:
How to copy images safely – Amara and Kevin (1)
How to copy images safely – Charlie and Alise
How to copy images safely – Fiza, Julia and Meena
How to copy images safely – Flick and Asha
How to copy images safely – Neeve and Kyle
How to copy images safely – Noah and Fang
How to copy images safely – Tommy